A lawn is a key part of the garden for many people and laying turf is the quickest way to create an area your family can use.
But how much does turf cost and how expensive is it to have laid?
The average cost for a gardener to supply, prepare and lay turf is £800 – £1,000 for an average 50m² lawn. Depending on the work that needs doing in terms of preparation and laying, you can expect it to take 2-3 days.
In this article, I'll break down the individual costs so you know what you can personally roughly expect to pay to have the job done for a garden of your size.
However, depending on the job, the cost can escalate so I'll cover everything you need to consider before hiring a gardener.
I'll also show you ways you can reduce the cost of having your garden turfed.
For the sake of simplicity, I'll base my calculations on a lawn of an average-sized lawn of  50m².
How Much Does Turf Cost?
---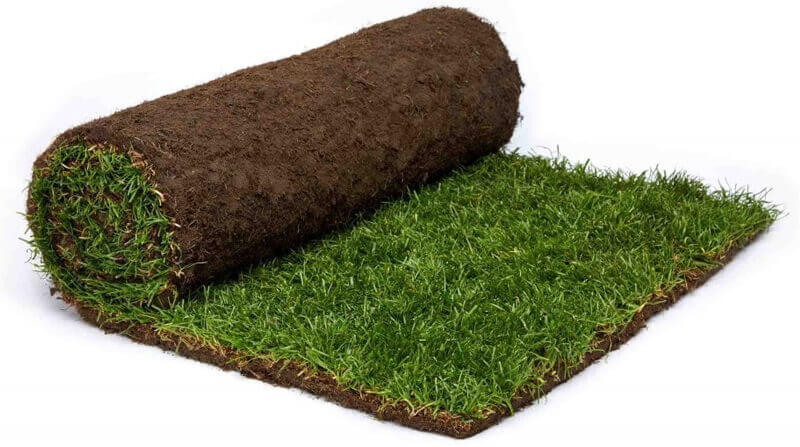 | | |
| --- | --- |
| Type of Turf | Approx. Cost (50m²) |
| Budget | £100 – £150 |
| Hard-Wearing | £200 – £250 |
| Premium | £200 – £250 |
| Shady | £250 – £300 |
| Ornamental | £350 – £400 |
| Wildflower | £750 – £1,000 |
Turf prices are typically calculated by square metre and vary wildly depending on the type you choose, the quality and where you get it from.
Let's look at the different type of turf individually.
Budget Turf
The cheapest turf is a good choice if you're on a budget, or if you just need a soft surface for the kids to play on.
You can buy it for £2-£3 per square meter.
That said, when it comes to turf, you really do get what you pay for. I personally don't buy cheap turf.
Hard-Wearing Turf
If you have a busy family that uses the lawn regularly, you'd be better spending a little more on hard-wearing turf.
And just because turf is hard-wearing doesn't mean it's not beautiful. Some include grass types which look fantastic.
Expect to pay £4 – £5 per square meter.
Premium Turf
An excellent choice for lawns that receive moderate use.
Premium turf generally has a blend of Ryegrass and Fescues which create a superb look while still being able to cope with moderate wear and tear.
Again, expect to pay £4 – £5 per square meter.
Shady Lawn Turf
For lawns that get covered in shade cast by building and/or trees, shady lawn turf is really your only option if you want it to stay looking nice.
This type is often very dense, looks incredible and feels very luxurious.
This can cost between £5 – £6 per square meter.
Ornamental Turf
For experienced lawnwmiths looking for a bowling green of a lawn, ornamental turf is the way to go.
Costing around £7 – £8 per square meter, ornamental turf is expensive and takes much more looking after than other types. Only choose this type if you have the budget, time, knowledge and equipment to look after.
Wildflower Turf
If you want to create something a little different, wildflower turf will grow to create a meadow-like area full of native wildflowers and grasses.
This is a brilliant option if you want to attract wildlife and pollinating insects like bees into your garden.
However, wildflower turf is expensive at around £15 – £20 a square meter.
On top of that, there's quite a bit of planning involved wildflower turf, which adds to the cost.
What Do Gardeners Charge For Laying Turf?
---
(Grass photo created by Welcomia – www.freepik.com)
Labour cost will make up the majority of whatever you spend.
Landscape gardeners typically charge between £150 – £200 a day for their services. Some might work with a labourer so you can add another £100 per day. So labour costs can amount to around £250 – £300 a day.
The amount of work that needs to be carried out in terms of preparation will dictate how many days it'll take.
Preparation involves;
Removing the old turf
Rotavating the soil
Removing any stones, roots or rubble
Digging in organic matter or soil improver if it's need
Adding topsoil if it's needed
Levelling and firming the soil
Applying a pre-turfing fertiliser, and finally,
Laying the turf
Ordinarily, you could expect the whole job to take 2-3 days at a cost of £750 – £900 for the labour.
Other Costs You Need to Consider
---
It would be ideal if the turf and the labour were the only costs you need to cover. However, there might be times when you'll incur other costs.
Like;
Additional Labour
The state of your garden could have a significant impact on the overall cost of labour.
For example, a bumpy, uneven lawn packed full of weeds, nettles and debris will take a lot more work to prepare.
It means strimming the big stuff, clearing the area and applying a weed killer before they can even start to remove the old turf.
This could add another day's labour to the cost. On top of that, your gardener would need to do this a week or two before starting to remove the existing lawn.
Skip Hire
If you have a lot of old turf to dispose of, or if you're removing paving or decking to make way for your new lawn, you'll need to dispose of it.
In which case you might need to hire a skip which could add between £150 – £300 to the overall cost.
Topsoil
If the area you plan to cover with turf is very uneven or full of poor quality soil, you might need to add more topsoil.
Additional topsoil can add an extra £1,000 – £1,200 to the job.
If you're laying wildflower turf, you'll need to remove the top 20cm of topsoil from the area. This is because wildflowers grow best in nutrient-deficient soil. Ordinary topsoil is often too rich in nutrients.
If this is the case, you'll need to dispose of it, so refer to the cost of skip hire.
Five Ways to Reduce the Cost of Laying Turf
---
Let's face it, paying a gardener to lay turf isn't cheap. So what can you do to reduce the overall cost?
Well, there are five things you can do;
1. Get Multiple Quotes
Different tradesmen can charge wildly different prices. As such, you should definitely get more than one quote.
I've seen people save as much as 40% by getting multiple quotes.
On this page, you'll see a red button which says, 'Post Your Job'. Click on that and fill in the form to get multiple quotes.
It's quick and easy to do;
You post your job and explain what you need doing
Up to three landscape gardeners will provide you with a quote
Review their prices and feedback before choosing the gardener you like best
It's as simple as that!
2. Negotiate on Price
Negotiating on price sometimes works, sometimes not.
It very much depends on your skill as a negotiator but it's definitely worth trying, especially if you've got a big job.
Again, I've seen people save 5% – 10% by negotiating.
3. Do the 'Unskilled Labour' Yourself
If the area where you want your new lawn to be needs clearing, you can do that yourself.
For example, you could;
Lift and remove old paving
Dismantle old decking
Kill and clear any weeds
Dig up any old turf
Clear any debris
None of these jobs requires any real skill, it's just labour. This could save you at least a day's labour costs.
4. Source the Materials Yourself
Some gardeners might add a bit extra onto the cost of the materials for dealing with the sourcing of them on your behalf.
By sourcing the materials yourself, you remove that cost.
Also, by shopping around for the materials yourself, you'll get the chance to compare products and their prices. This means you buy the exact turf you want instead of getting what you're given by your gardener.
5. Avoid Intricately Shaped Lawns
Intricately shaped lawns add to the cost, both in terms of material wastage and the extra time it takes a gardener to lay the turf.
By keeping the shape of your lawn simple, you'll reduce these costs.
Frequently Asked Questions
---